Label Laser Marking Systems for Modern Automotive Traceability
Michele Guerrisi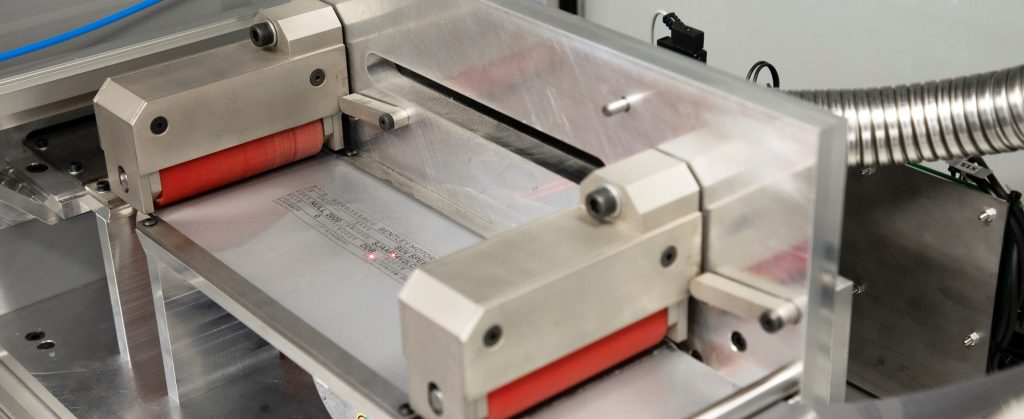 Introduction:
Pryor have become a trusted leader in delivering complex and reliable marking systems within the automotive industry. These have ranged from Robotic and Manipulator based VIN Marking Systems for OEMs, to integrated high speed marking systems for the Automotive supply chain.
More recently, we have developed and delivered a number of Label Laser Marking Systems, to a range of Automotive OEMs, with great success!
Problem:
The common theme from our customers is that their existing equipment is ageing, requires an excessive (and costly) amount of maintenance, are overly complicated, and poorly supported. We have recently supplied one OEM, suffering these issues, with two Label Marking Systems. Our customer is a manufacturer of luxury cars and SUVs, so it was important that the supplied equipment and the various VIN and legislative labels produced, exemplified the quality of the vehicles manufactured in the plant.
Solution:
In response to this customer's challenges, we worked closely with them to design, manufacture, and deliver a bespoke label marking system, addressing the issues seen from the existing equipment.
The result was an ergonomic, floor standing laser workstation with integrated touchscreen HMI, complete with integrated PC tower and fume extraction unit.
We supplied a simple yet reliable feeding and handling system, designed for quick and easy loading and unloading of label rolls, minimising downtime, and maximising productivity.
Our Marking and Traceability software was developed and customised to offer a comprehensive control over the marking process. Our software facilitates automatic label printing, by seamlessly integrating with the customers SQL database. At the customer's request, we also developed a feature allowing operators to manually add label "jobs" to the automated queue, either from the main laser PC, or from a remote PC connected to the same network. This feature is used frequently in the event of a label re-print or for testing and printing new label designs for evaluation.
Customer Support:
One area where we pride ourselves is the standard of customer support we offer. This has been a company trend throughout or 174 years of trading. We understand how demanding the automotive industry can be and maintain a high level of customer focus throughout the projects we undertake, from concept design through to installation and commissioning.
Aftersales support is critical to our Automotive customers, as any unforeseen issues or downtime on our equipment can have a serious knock-on effect to the highly intricate process of manufacturing and delivering vehicles. We make it our mission to respond to any issues in an effective and timely manner.
Conclusion:
Our Label Laser Marking Systems offer automotive manufacturers a reliable, efficient, and future-proof solution for their vehicle identification needs. With a focus on customer support and a wealth of experience in delivering complex marking systems, Pryor ensures seamless installation, effective operation, and long-term partnership. By harnessing fibre laser technology, integrating software for full supply chain traceability, and providing versatile marking capabilities, Pryor empowers manufacturers to enhance productivity, meet industry standards, and stay ahead of our competitors.
Customer Testimonial:
"We have purchased a number of laser marking machines and desktop scribe units from Pryor Marking in the past few years.  These are in daily constant use and are generally problem free.
Each project with the company has ran efficiently from initial concept discussion, design, manufacture, assembly and testing.  Any issues have been resolved in a timely fashion, whilst maintaining good communication throughout.
Pryor have sufficient space at their Sheffield headquarters for pre acceptance testing of machines which we have utilised a number of occasions.  This also extends to quick turnaround of parts within their own machine shop if required.
The big advantage we have found with Pryor is their willingness to support after the equipment has been installed.  Previously, this has ranged from swiftly dealing with unforeseen issues that have developed over time, advanced training in the Traceable IT software, the loan of equipment to act as a containment measure, and also taking time to provide advice on future project concepts.
As a company, they are customer focused with delivering a satisfactory solution, flexible enough to make changes to their designs to meet customer requirements, react to requests in a suitably short time and provide good aftersales support."