10% off PortaDot P60-30 Touch & MarkMate Touch Machines this November
Steve Jarvis
We're going to be 175 years old next year and this November marks the start of our 175 day countdown to our 175th Birthday. We're kicking off the celebrations with a range of offers from now, though until the big day itself.
Our first offer is 10% off the standard retail price of all PortaDot 60-30 Touch Portable Dot Peen Marking machines & all MarkMate Touch bench mounted dot peen marking machines. This offer will run until the end of November.
All you have to do is head over to either the PortaDot 60-30 Touch or MarkMate Touch landing pages and send us your enquiry and we'll do the rest.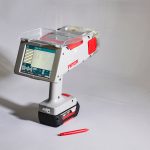 Portadot P60-30 Touch
The PortaDot 60-30 Touch is an extremely versatile, lightweight and mobile handheld & portable dot peen marking machine with a marking window of 60mm x 30mm. It is powered by a Bosch 36V battery for 'all day' use and features patented technology to ensure that the marking force does not deteriorate as the battery power depletes. The new integrated control system is based on our 4000 Series Controller and has many of the same functions and features, all packaged within the marking head for ultimately mobility. Marking programmes can be created, edited, and saved directly to the marking machine using the 5.7 inch touch screen display so that they can then easily be loaded the next time that programme is required. Find out more about the PortaDot P60-30 Touch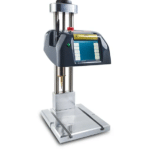 MarkMate Touch
The user friendly 5.7" touchscreen, mounted on the marking head of the MarkMate Touch itself means this completely be self-contained unit has no need of a cabled external controller. Our intuitive touchscreen interface, already proving hugely successful with the Pryor 60-30 PortaDot Touch, allows users to quickly create, edit and save marking layouts without needing to step away from the machine. When ready to mark a component, the layout is quick to load and execute via the same touchscreen, or the physical start/stop button mounted alongside the screen. Find out more about the MarkMate Touch
Offer valid on enquiries recieved during the month of November 2023